Tequila Lime Zoodles
Before I begin, I'll post a picture of the ingredients to be used in this recipe minus the cluck clucks. Make a mental note that goes something like this, "OMG Is that tequila?!?"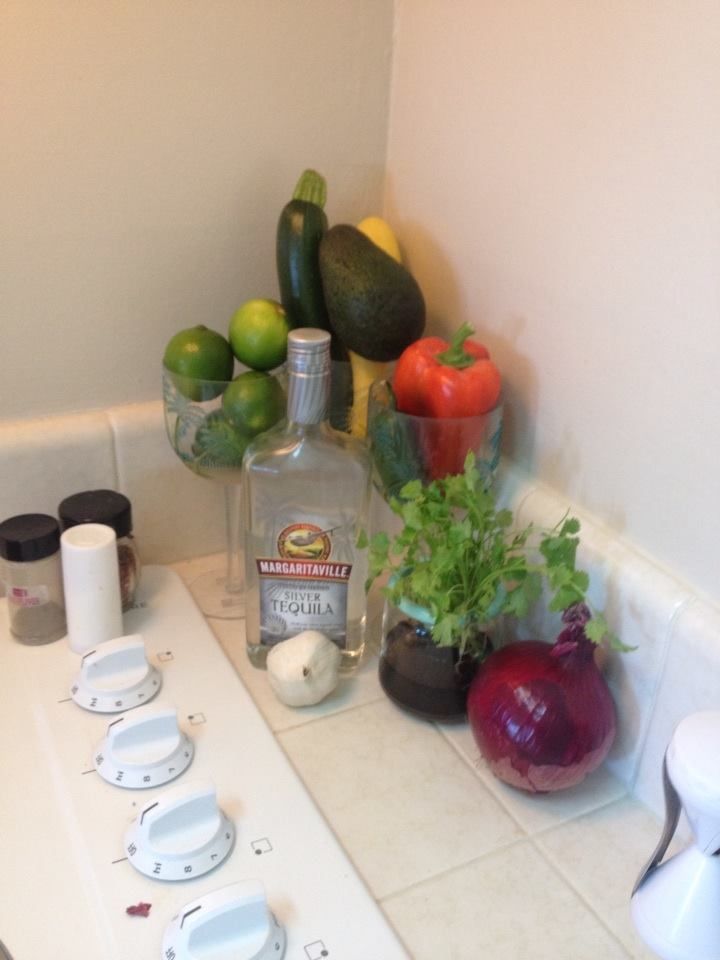 I think the creator of the name ZOODLES may have had one too many shots at Happy Hour. It is a happy word though. Its kind of impossible not to smile when it rolls off the tongue. And lets be honest if you have to stay away from carbs for any reason you will be HAPPY cooking this quick recipe. Zooledy- Doodley. Lets get started.
Ingredients:Hail to the Zoodle
1 small zucchini 
1 small yellow squash
2 cloves garlic
1 red pepper
1 jalapeño (reserve half for the sippy cup tequila sauce)
1 Bunch of cilantro *** Here is why to wash your cilantro after you take it home from the grocery store- the best way to pick out fresh, great tasting awesomeness is to SMELL it. I'll refrain from any other bothersome visuals)!
1 avocado (reserve half)
2- 3 small limes
1/4 purple onion
1/2 pound of shredded chicken (on this particular day I was exhausted and L-A-Z-Y and HOT. Welcome to summer. So to save time and avoid destroying my lovely locks, I picked up already cooked, shredded chicken from a health food store. 
Tequila Lime Sippy Sauce
1/2 jalapeno ( if you want to light it up, leave the seeds)
1/2 avocado
1-2 shots of the Tequila of your choice 
Juice of 2-3 limes
2 tablespoons of Olive Oil
Directions:
Use an as seen on T.V. veggie pasta maker Its well worth it, while your at it pick up the bacon bowl contraption (just kidding, never tried it but I have always wanted to- if you have please comment below and let me know how it is) 
Spiral your zucchini and squash. Chop your veggies. Set everything aside.
Now get out your NutriBullet or Blender. 
Take a shot of Tequila Julia Child's style. One for the dish one for me and so on....
Pour in the above mentioned ingredients- I don't feel like re-tyipng the ingredients- I've only had 1 cup of coffee.
Give it a whirl and thats what you call the Green Monster
Sauté your veggies, add the chicken at the last minute of this very long 5 minute cooking escapade add the Zoodles. Now pour in the sauce. Just enough to get it warmed not enough to burn off the alcohol. Because at the end of the day, if you hate it or love it, I'm giving all credit to the Tequila! 
One last tip:

You can use the Sippy Sauce as a marinade, for chicken let it do its thang for 4-6 hours or overnight. 
Remember to always LIVE ALOHA and Eat to Celebrate Life. Aloha Nui Loa,
xoxoxox,
KrisT
Kooking with KrisT
www.armsofaudio.com

Tags: Arms of Audio, armsofaudio, Kooking with KrisT, gluten free, healthy, tequila lime , zoodles, carb free